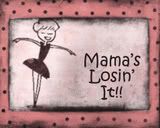 This is my first time being able to participate in
Mama Kat's
Writing Assignment. I'm very pleased to be able to do it, finally!
If you have never visited
Mama Kat,
you are missing out. She is smart, funny, real, beautiful, the whole 9 yards. She has it going on! I love that attention craving poodle.
She's also
having a giveaway
right now that you should really check out. But if you enter, could you please do it in MY name? I really need a vacuum right now! K thanx bai.
So, for the writing assignment, I chose to list 10 things I believe in. These are scattered and unrelated things, but things that I truly do believe in.
1. Number one has to be Karma. Whatever you choose to call it, I'm a firm believer that what goes around really does come around.
2. Love. I had my doubts at some points in my life, whether or not true love really existed. I have no more doubts. (now I have that Dixie Chicks song in my head. "I believe in love. Love that's real, love that's strong, love that lives, on and on......")
3. Telling your kids NO. Why are some people afraid to set boundaries or say the dreaded "N-O" word to their children? They are doing their children and the world NO favors with this mentality. And it drives.me.crazy.!
4. The Golden Rule.
"Do unto others as you would have others do unto you."
It's the number one thing I try to teach my children. I'm not saying I always follow it! But I think it's the ultimate rule to live by.
5. Helping out your fellow man, and those who can't help themselves. Be that children, animals, the elderly, adults who have fallen on hard times....etc.
6. Spaying & neutering, and being a responsible pet owner. This means taking care of your pet in all ways. This does not mean expecting your pet to act & reason like a human. It is OUR job as pet owners to protect them. We take on that responsibility when we take that animal into our home. Please, take it seriously.
7. Fun. Laughter. Enjoying the company of your family & friends. Living life to the fullest, not sitting idly back and watching it pass me by!
8. "You teach people how to treat you." -
Dr Phil
Whether you like him, love him, or hate him, this quote, in my opinion, is right on. You have to set boundaries with people in your life. Even if it means losing them, that's better than allowing yourself to be treated terribly. Another big thing I try to teach my kids. I had to live & learn.
9. Live & let live. Judge not. And "before you point your finger,make sure your hands are clean." -
Bob Marley
10. I believe that this blogosphere is an amazing place. The fact that so many people take time out of their day to read my posts, then leave a comment of support, to wish me well, to commisserate, to laugh......it thrills me to no end. It makes me feel all warm and fuzzy. When I'm really PMSing, it makes me get choked up. Seriously, blogging is truly amazing. Thank you all for being my friends!