I pull up in the driveway, and she comes running out. "CYNNNY!"
She is a short, miniature version of my oldest daughter, Shelbie.
"What you doing, Cynny? You picking up Shelbie and Layna?"

"Cynny, you stay here with us?"
"No, baby, that would be awkward."
She reaches her arms up to give me a hug & kisses my cheek.

She is my children's half-sister, their father's youngest child. She looks so much like my daughter Shelbie at that age, sometimes it's scary.
The ex-spouse/half-sibling/step-sibling relationships are confusing to anyone, but a three year old has no understanding of it all. She just knows that I'm Timmy and Shelbie and Layna's mommy. She has no reason not to like me, so she likes me. Simple as that. And to her parents' credit, they haven't done anything to discourage that.
My children's father, his wife, and I can not get along. The reasons for that are many and complicated and not the point of this post.
But the innocence of a child sees none of that. It's so simple and refreshing, and you can't help but wonder...who is the wisest one of us all?
{all photos are of Shelbie at about 3 years old.}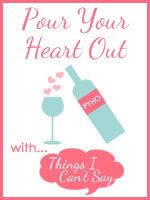 Pouring My Heart Out with Shell