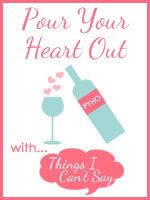 In case you missed it, I posted this weekend that
my husband and I are separating
.
What I didn't really explain is that I am alright.
I have been anxious, depressed, frustrated, and hurting for a while now.
But since I made this decision, I feel like a burden has been lifted off of me. I literally feel lighter. I am happier, and my children are happier. My husband is not, and I do feel sad about that. I also feel sad for what Andrew will lose.
Other than that...I'm good. I feel confident and strong. And that makes me certain that I'm making the right decision.
Of course, there is much more to this situation than I've posted here. Some of it I may post eventually, some I probably won't. My blog isn't the place to perform a post-mortem on my marriage. And really....there's just no point.
It's time to move forward and get on with my life. There are good things coming our way....of that I am sure!
And I greatly appreciate the support of my blog friends. You all are wonderful!