Sunday is Mr. Wonderful's birthday. So, to celebrate, we are visiting our Favorite Place in the World this weekend.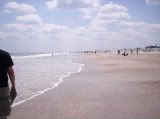 St. Augustine, Florida.
There is nowhere on this earth I'd rather be. It's our second home. We only live about an hour and half away, and we visit often. We never tire of it. We'd love to live there, but the time is not right. Maybe one day.
Being there is soothing to the soul. It's such a nice break from day-to-day life. We usually stay in a hotel, but this time we are staying in a cabin. We were actually going to tent-camp, but there were no sites available. So, we will rough it in a cabin this time. No kids, just the two of us. The weather is predicted to be beautiful.
I cannot wait!
We leave in the morning. Happy Birthday, Mr Wonderful!
And on another subject......I ate a pickle today. Hardly blog-worthy for most people, but I have been on Full Liquids, and then Purees, since my surgery on February 25th. I've done ok with it, but a couple of days ago I started craving a pickle. A nice, sour, salty pickle. I ignored it as long as I could. Tonight, nothing was open but the convenience stores, and I NEEDED a pickle! So, I got one of those huge ones that are in weird plastic bags full of juice. I opened it up, avoided the 'skin', ate the inside and just chewed the bejeezus out of it.
It was truly one of the best things I'd ever eaten in my entire life.
YUM.
-19½ lbs. since surgery