Last night was my first night back at work after surgery. I had 3 weeks off. I really do like my job, so I was ready to go back. I got my scrubs on, packed my little lunch bag, and off I went.
I got to work and proceeded to get
ill
. For the first time since surgery,
I felt awful
. I had Potty Problems. Digestive Dilemmas. I won't go into further detail (although
Krissy and her Diva
would probably like it!). I was in pain, and I was running to the bathroom every few minutes. I made it four hours (at least 2 of which were spent on the throne!). And then I gave up and came home.
I am really bummed! But tomorrow night, I will go back. Armed with medications to help out in case it strikes again.
(and now that I'm home, I feel FINE! What the heck?)
At least I tried!
********************************************
Our mini-vacation was FANTASTIC. Here are a couple of pictures.
This is our cabin.....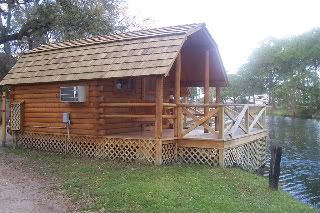 The Squatter. He apparently lives behind the window frame and was quite curious about the weirdos on the front porch swing. He watched us for a good long time.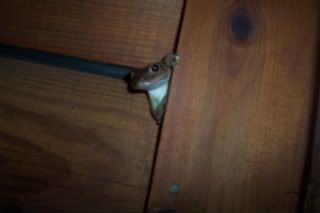 The lake is called Turtle Lake, and it was FULL of turtles, which I love. There were also lots of ducks. I'd love to post pics, but Photobucket is being a real jerk right now. Maybe we'll make up tomorrow and I'll add them on.
But we had a truly wonderful time and can't wait to go back!


~22 lbs.