I've never been a big fan of change. I'm sure I've mentioned that here before.
I don't rearrange my furniture. I get in ruts. I usually keep the same hair color and style.
I'm little outdated.
But sometimes in life we find ourselves in the middle of a whole lotta change, and we just have to roll with the punches. Let me tell you what has changed in my life,
just in the past six months:
My marital status, twice:
(divorce and then remarriage)
My last name:
(technically twice also. I had my maiden name restored when John and I divorced but didn't officially change anything since I knew I was marrying Byron.)
My job:
I started a new job in October. Even though it's still in the health care field which I've worked in for almost 7 years now, it's totally different from what I've done before. For the most part, I love it. Just last week I had a sweet little old lady hold my hand and tell me there is a special place for me in Heaven. But, it's definitely challenging as well.
My home:
I moved out to the woods with my love in December. My husband welcomed me into his beautiful home and I could not love it more.
My car:
I kept the car when John and I split, but gave it back to him a few months ago It needed more work than I wanted to pay for. It wouldn't survive the trips down the long dirt road to our home, anyway. Now we just use Byron's big red 4x4 truck, which I LOVE.
Pets:
Byron came with a cat and dog, Mama Kitty and Patchy, whom he loves. Since we got together, we acquired a little ankle-biter dog for me, Mackenzie, and then ended up with Byron's son's dog, Bo. I adore all of these animals, but Patchy most of all. He is an American Bulldog, about 11 years old, and just a wonderful animal.
Byron & Mama Kitty
Sweet Patchy
A-dork-able Bo
Crazy Mackenzie
Family:
I have gained a Mother-in-Law, a stepson, and a brother-in-law. Also, my stepson has a girlfriend whom we consider another one of our kids. And a whole, wonderful, loving extended family.
Lifestyle:
I now live in a world of hunting and country life. My husband has outfitted me in head-to-toe camo. I have learned so much from him. Our yard attracts turkeys, raccoons, opossums, deer, hogs, coyotes, and who knows what else. I learned how to cook wild hog in the crockpot.
Yes, these are MY boots on MY feet.
His & Hers Phone Cases
Home.....
For a girl who is resistant to change, that is a WHOLE LOTTA CHANGE in a short period of time.
It's no wonder I get a little overwhelmed sometimes.
But there is a contentment in this life that I have never before known. A security and a feeling of protection and safety.
I guess sometimes.....change really is good.
Linking up with: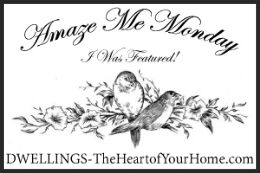 Mosaic Monday