It's pretty bad when you suck at your own game! We were so busy today that Ladybug didn't get to take any pictures. So, my submission for today is one of my favorite pictures that she's ever taken.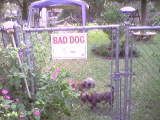 This is one of my dogs, Tater, and my brother's dog, Bonnie. They're standing behind my parents' "BAD DOG" sign. My parents have no dogs, they're just weird. The 2 dogs maybe weight 20 lbs together, and that's pushing it!
Be sure to check out the other IFYAKAC particpants!