Well, I'd like to say I've been playing on
Plurk
. But the truth is, I'm merely a wannabe. Because I can't figure out how to find my friends on there! So, if you're
plurking
, please request me on there, since I am apparently a plurktard.

I even have a
useless
widget on my sidebar.
My name is dysfunctionalmom, and I'm plurkthetic!
But I'm figuring
SITS
out just fine, thank you! If you haven't checked out
The Secret is in the Sauce
yet, get over there and do it now! I have found some of the funniest, most amazing blogs through
SITS
, and had bunches of bloggers visit me from
SITS
. I am totally feeling the love! And having a blast finding all these blog treasures.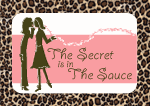 And finally, I have embraced my mediocrity through
AllMediocre.
Another fantastic site, where I've found some super blogs that I'm glad I didn't miss out on. After all, mediocre IS the new black!
So, where are you hanging out these days?