I am so tired it's absolutely ridiculous.
TGIFF
! (
T
hank
G
od
I
t's
F
riday
F
ragments!)
It's been a busy & exhausting week in the Casa De Dysfunction. And the weekend will be more of the same!
Saturday will be filled with softball; the opening jamboree is in the morning and then Elayna has a game in the afternoon. John's friend's funeral is also on Saturday, and if we can we are going to go.
On Sunday, we will be visiting my parents and celebrating the March birthdays; John's (the 16th), my dad's (the 21st), and Tim's (the 30th).
It should be a fun weekend, and the temps are supposed to be in the 70's.
Sweet!
For those of you who asked on
this post
, John did have a very nice birthday. I did make it a very special night for him
you pervs
. I made his favorite dinner, lasagna (which was literally the only birthday gift he requested), and a Gator-head-shaped carrot cake.
While blog-hopping the other day, I came across this awesome blog,
Pulsipher Predictions
. You may recall that I have an affinity for both snuggies, and the elderly. Well Kristina does too, and she's doing something amazing...she is collecting Snuggies to give to the elderly! How awesome is that? I would love it if you'd click the button below and check it out.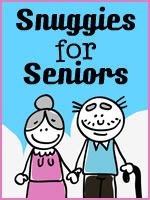 Alright. I'm defragged. I hope you all have a great Friday & a great weekend!


Visit Half Past Kissin' Time for more
Friday Fragments
!