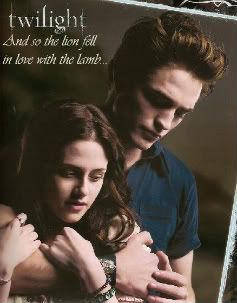 Last night, Ladybug, my niece, and I went to see Twilight. I refused to read any blog reviews of the movie, because I didn't want any preconceived ideas about it.
I really liked it, we all did. I'm not insanely wild about the actress who played Bella; I think she looks the part but her acting wasn't fantastic. There were SO many things from the book that I wish they could've put in the movie, but I expected that, that's what happens with nearly all books that are made into movies.
But I really did enjoy watching the book 'come to life'.
And Edward....he was yummy. I fell in love with him all over again. And Jacob is simply beautiful! I so hope that they make the other three books into movies also.
The girls and I grabbed dinner at Subway, made a Walmart run, and then came home, where the boys had been eating, watching TV, and farting all night. Good times!