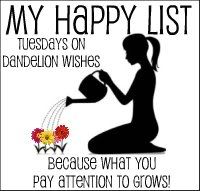 Iiiiit's HAPPY TIME! Here I go!
* I have finally started seeing clients at my new job. And I LOVE it! One client in particular is just awesome. She is 93 and keeps me laughing the entire time I'm with her. LOVE her. I'll give you just one little gem from her, about the girl who had taken care of her the previous day: "She was real nice, but she was dressed like a tramp."
* I went out to karaoke Friday night with my BFF. We hadn't been in a while and I was SO ready for a night out! First we went to dinner at a BBQ restaurant, and brought 4 of our 6 kids with us. We all had a blast, although I'm not sure we're welcome back in that establishment. ;-)
It was a fun night.
* My oldest son Tim has changed so much recently, in a good way. Last night he totally blew my mind. Earlier in the day, he and Elayna, my 10 year old, were playing video games, and they were bickering in the way that siblings often do while playing video games. I didn't pay any attention, to be honest. Then Tim went off to work, and when he got home late last night, he and I were sitting around talking, along with my oldest daughter. Then out of the blue, he asked me if Elayna was in bed, then got up and went into her room. When he came out about 5 minutes later I asked "What were you doing?" And he said "I was being mean to her earlier today when we were playing video games and I wanted to apologize. I felt really bad."
And then they had to revive me with smelling salts.....no seriously, though, I was floored. Shocked. And impressed. That was SO out of character for him.
When Elayna got up this morning I asked her if he'd been unusually mean yesterday, but she said no. She seemed shocked too, but I know it absolutely made her day. My kids fight like all kids do, but they truly love each other and it's nice when I get to see that side of them.
* And my friends are still at it; brightening my day on a daily basis, reminding me that I am not the alone in the day to day craziness of life, and that they love me.
* OMG, are you watching Halloween Wars? It's like Cupcake Wars, Halloween edition, only without the cupcakes. (I know, that made no sense.) It's the same host & setup as Cupcake Wars, but they carve pumpkins and use cake and candy to make these incredible Halloween scenes. I LOVE it!
Okay, happy campers, go visit Mamarazzi for some more Happy stuff!