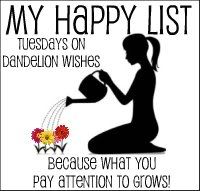 It's Tuesday, time for Happy Lists! And I have a whole lotta HAPPY today!
Remember my niece who is pregnant,
and torturing me by waiting to announce the baby's sex at a party?

Well....first of all, the party had to be moved up due to her husband's work schedule,
which of course made me HAPPY!!
...and we had it LAST NIGHT!!!
So the cake was cut, to reveal that Heather & DJ are expecting.......
A BABY GIRL!!!!!
Which brings me to my Happy List.
~ Baby Girl SHOES
~ Baby Girl CLOTHES
~ Baby Girl HAIR BOWS
~ Baby Girl OWL ROOM THEME (no idea where she got THAT inspiration from, heh)
~ Baby Girl TOYS
~ Baby Girl KISSES & HUGS
~ Baby Girl SHOPPING!!!
Now, if she was having a boy, I'd still have a Happy List. I honestly had no preference. But I can't wait to start spoiling a girl! And girls definitely have the best clothes & shoes. ;-)
What's your Happy today?
Share with Mamarazzi!