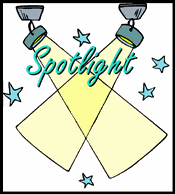 .....for a Blog Hop! So I'm hopping in the Spotlight Saturday Blog Hop.
If you're here for the first time from the hop.....allow me to introduce myself.
I'm Cyndy, a.k.a. Dysfunctional Mom. I am the Supreme Ruler of a blended family with lots of kids and lots of pets. I suck at math, so I don't always remember exact numbers. "Lots" sums it up well.
I am short, Southern, and sassy. I love my crazy family, Diet Dr Pepper, the color purple, and this here blog.
Oh, and I have a new giveaway starting very soon, so make sure you come back!
Have a great weekend & a fun Hop!