Please make sure and read
the post below
, too!
I couldn't just end on a negative note, because (a) that's just not my style!
and (b) I have good news to share, too.
First, doggie pictures! This is the newest foster, Kato. They said he was named after a character in The Green Hornet comic? I'm not into comics, so it makes me think of OJ Simpson's buddy. I can never remember to call him Kato and for some bizarre reason, I usually call him Lucky. He's fat and very sweet, and follows me around like a shadow. (I can't figure out why ALL of these fosters instantly attach to ME? Why can't someone else get this privilege occasionally?)
Kato/Lucky: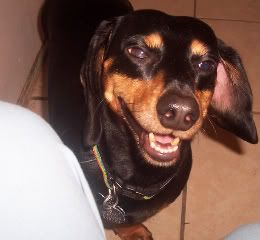 He actually looks just like Suzie, except twice her size. Literally.
So, the other good news is, my best friend in the whole world, since high school, is graduating from college tomorrow. I don't get to see her often but I'm NOT missing this, and I'm so excited just to see her, not to mention the graduation! AND, her daughter and my Ladybug adore each other, and consider each other their numero uno best friends, and they have been together since Wednesday and I will get Ladybug back on Saturday. She is having SO much fun over there!
I could probably think of more happiness to share, but this is pushing it considering the last couple of days I've had.
Have a great weekend!