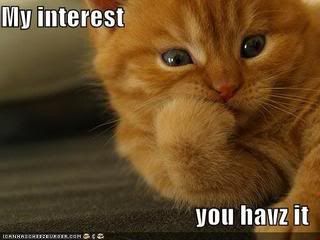 Seriously, you do. I love to read about what's going on in your life, or the funny thing that happened yesterday, or what you're doing next week. And especially the funny things your kids say! I miss when my kids were so young and said funny stuff every day.
We had a blast at work last night, we laughed all night long. It put me in such a great mood! Kind of like when I go down my blog roll and read all of my favorite blogs.
Sometimes they're funny, sometimes insightful, sometimes sad. Sometimes they provoke laughter, other times thought, other times tears.
But it's a wonderful blogosphere out there, an amazing way we share ourselves and our lives with others.
My favorite blogs are the ones in which the author doesn't feel compelled to entertain their readers. They blog from the heart. They blog about what's on their mind and what's going on in their lives. They blog about that which they feel passionate. Large or small.
Those are the best kinds of blogs. Those bloggers let us have a tiny peek in their windows. We get to see a piece of what their life is like, and realize that we have something in common. A goofy husband, a picky kid, a crazy mother-in-law. We can commiserate, laugh, or cry. We worry about our bloggy friends when they're going through a rough time, or when they suddenly don't blog for a few days.
It's an amazing community, and I'm so proud to be a part of it.