I'm Pouring My Heart Out with Shell today!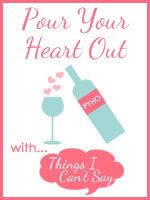 I realized years ago that I am less observant than your average bear. I'm not totally oblivious to my surroundings (like my mother-in-law, who did not notice the
neon pink streaks
in my daughter's hair,
I swear I am not making that up
). But I tend to be wrapped up in my own thoughts; in my own world.
I figured out that I was different years ago when a friend of mine pointed out that an acquaintance of ours had worn the same outfit two days in a row. I would never have noticed that. Then, when I first started surfing the internet, I would see comments about what other people bought in the grocery store. I was honestly floored. I can promise you that, unless your groceries jump out of the cart and do a flash mob in the canned goods aisle, I am not paying any attention to what you're buying. Buy all the pop tarts & KoolAid you want.
In stores, I think I'm very focused on what I'm buying, staying within budget, what my kids are doing, and recently, my coupons. But in any situation, I'm just not the kind of person who pays attention to details. I may seem like I'm just in la-la land, but really I'm usually deep in thought about something; it could be anything from something I read or watched on TV to the court situation with Andrew or my relationship with my parents or my job........anything. the voices never shut up.


I also used to never notice anyone who needed a helping hand, but seeing my husband being so helpful changed that. Now I hold the door for the next person, even if that means I have to wait an extra moment (previously I wouldn't have noticed unless the person was right behind me). If someone drops something, I tend to notice that now and pick it up for that person, whereas before I probably would have drifted right on past.
It is absolutely not a matter of not caring. It's just a matter of not always noticing something until it's waving in my face.
For a long time, I've accepted this, but thought of it as a flaw. A negative aspect of my personality. But just recently, I saw it in a different light.
Sure, there are some ways in which it would be better if I were a little more aware, more attentive to details like while driving in my car. But when I'm busy focusing on my own life....I'm not noticing your kid having a tantrum in the store. I'm not even aware that you stuck that pack of cookies in the produce aisle while your kid wasn't looking. You see....I'm way too busy keeping my own kids corralled to notice your kids' behavior.
I am so busy minding my OWN business that I'm not meddling in YOURS.
And I don't know about you, but I know quite a few people who could take a lesson from ME!


Perhaps, if they focus more on their own life.....then they won't have time to watch and judge others. Maybe, just maybe, if they concentrate more on what's going on with their own family, they won't be so concerned with what's going in someone else's house!