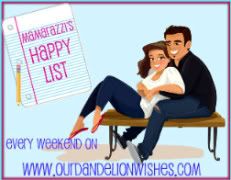 It's Saturday, and I've decided it's time for a Happy List!
#1
~ Ever since my Elayna could talk, she has admired
pink hair
. The
pinker
, the better. She has been asking me for the longest time when she could have
pink hair
. Last week when I was getting my hair done, this came up in conversation and my stylist was totally on board. She talked me into bringing Elayna in to get three
pink
foils. Today was the big day! Elayna was SO
happy!
And when Elayna is
happy
, I am
happy
! I heart that kid.
#2
~ The kids are at their dad's this week, and while I will miss them, the fact that my house will stay relatively clean for a whole week does make me
happy!
#4~ It has rained for most of the past two days here, and while I don't like driving or being out in the rain, my flowers & garden will be very happy!
#5
~ I made it over the 500 follower mark, and I confess that does make me
happy!
Thanks, follower friends! xoxo
Wishing you a wonderful weekend!