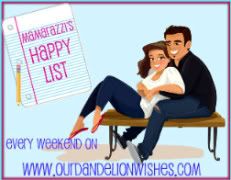 I have some ~*Happy*~ to share with you today!
So I'm joining in with Mamarazzi's Happy List.
~* I think we've found our house. I don't want to jinx anything, so I'm not going to say much....but I'm crossing everything crossable!
~* My parents invited us to go out for dinner with them tonight - their treat! This is a rare occurrence, so it definitely goes on the Happy List!
~* I won an adorable Coffee Cozy from
Cream No Sugar
via
Mamarazzi's
Taking Back Mondays. It came in the mail today (so fast!) and I just love it! Thanks, Sue & Mamarazzi!
~* One of our cats scared us very badly this week. I was certain we were going to lose her. Now - she has made a full recovery! I will post the whole story next week. But I am SO happy that she is okay!
~* I start my new job on Monday! Happy happy happy!
~* After a run of some bad luck, it seems like maybe things are turning around for us. What a relief!
~*
Mamarazzi
makes me happy. I'm so glad I found her blog; she is one of the sweetest bloggers I've ever "met"!
Hope you have a ~*HAPPY*~ weekend!