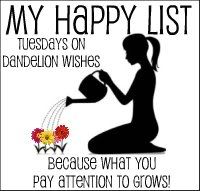 YAY It's time for a Happy List, and I have some Happy to, umm, LIST! WOOHOO
~~~ I have some awesome bloggy friends, as y'all know. One of them recently, got sick of hearing me whine knowing I was feeling down, offered to do something for me as a pick me up. It's currently in the works and I am SO excited! Hint: Watch. This. Spot!!!
*UPDATE* If you're reading from your reader, CLICK YOUR BUTT OVER HERE! It's done and OMG, looking at it takes me to my happy place. It makes me feel calm & comforted. Seriously, I LOVE this design!
Thank you thank you sweet friend, you are amazing!!!
~~~ My car was broken. Now it's fixed. For free! HAPPY!!
~~~ I'm slowly getting the new house organized & decorated. This is the part of moving that I actually like!
~~~ I have a long weekend ahead and I have ordered sunny weather. I WILL HAVE SUNNY WEATHER!!! That is all.
~*~*~ Lots of Happy around here!
Hope you're feeling the Happy, too! ~*~*~*