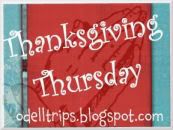 You know how they say, when it rains it pours? Well, it's raining where I live.
Literally, and figuratively. I won't bore you with every detail, but last week we had a torrential downpour. Every time it rains a lot, our carport floods, which is a hot mess. But this time, it got better. The flood ventured INSIDE the house. We got that cleaned up, and now we're having floods coming from the inside. In short, our plumbing is
screwed
. Basically, my house, my precious 50+ year old house that I love so much, is falling apart. Literally.
That, among other things, is causing me a significant amount of stress. So as a way of getting my focus where it needs to be, I'm doing a Thanksgiving Thursday.
~*~ I'm very thankful to have a job. And things have greatly improved here at work recently. I have wonderful co-workers who are like family. In this economy, I'd be (at least a little) thankful for ANY job, so the fact that I really love my job is even better.
~*~ I'm thankful for my kids. They are super smart and intuitive. They know I love them, and they love their Mama. And truly, they are great kids. That's not just Mama talking, I get a lot of compliments on my children. They are awesome. I have a special relationship with each of them, and I know that no matter what happens, we'll always have that bond.
~*~ I'm thankful for my friends. More than words can say.
~*~ I'm thankful that my parents are still in good health. They are aging but are very blessed to be healthy and relatively active.
~*~ I'm so very thankful for my husband. He is so good to me, and makes even the most stressful situations better. He is my very best friend. If ever two people were meant to be together, the two of us were. We just fit.
Okay. I just got a text from my husband that our A/C is literally burning up. And my head will now explode in 3....2....1........