Lotus over at Sarcastic Mom
has started something wonderful.
Be sure to check it out!
I do a few green things but really need to work on doing a lot more.
A while back, at
Publix
, I read about how plastic
shopping bags are killing turtles, and many other animals, marine and land.
Most stores (down here, anyway) sell VERY inexpensive cloth bags. (.99 cent, anyone?) This is a very simple yet effective thing we can do, to help the Earth and its creatures. I don't know about you, but I used to collect a LOT of plastic bags, and now thinking of all those animals, and poor turtles thinking they're eating jellyfish, really disturbs me.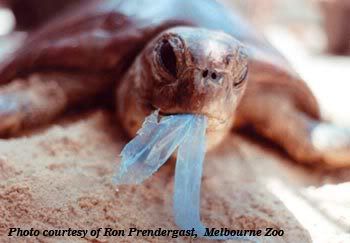 I love using my earth-friendly bags! And at the same time, I'm teaching my kids a valuable lesson about conservation. Win/win!