I am loving the Old School Blogging memes.
Fun stuff for this Old School Mama!
Here's this month's edition...
1. What was one of your favorite shows as a kid? Why?
I would have to say Growing Pains, because Kirk Cameron, that's why. I loooooved him.
2. Which actress(es) do you see on the red carpet and kinda wish you could be for a day (or three)?
I don't watch awards shows. I compare them to watching paint dry; they just don't interest me at all. But I have a total girl crush on Sofia Vergara, and if I couldn't be her, I would have to choose Catherine Zeta-Jones. Brunettes rock!!
drop dead gorgeous.
beautiful.
3. Which actor do you wish you could, um... hang out with? ;)
Bradley Cooper. It's rare that I like the same celebrity that everyone else likes (I am not at all impressed with George Clooney, Brad Pitt, Johnny Depp, nor 90% of the other men y'all ladies swoon over) but I love me some Coop. Oh and I just saw that Hangover 3 will be out soon! I cannot wait!
4. What is one (or two or some) of your favorite movies that you have seen in the last few years?
Well, the Hangover movies, obviously. I love love love Straw Dogs. I also loved the Paranormal Activity movies. (can you tell I don't see movies a lot?)
The last movie I saw was on my first date with Byron. I just asked him and neither of us can remember what movie it was! hahaha
5. Who is one celebrity out there now that you could totally do without? That you wish would just disappear?
Other than the obvious, Paris Hilton and Lindsay Lohan? I'd have to say Ryan Lochte. Dumb as a box of rocks, he is pretty much an embarrassment to humanity, and more importantly, to the University of Florida. (he is a former Gator. Sad, but true.) And I just could not care less what he would 'do'. I think his best bet is to keep quiet and swim.
6. Have you ever met a celebrity? If so, who? What did you say/do when you met them?
I have. I met Tim Tebow when he was still in training for the Florida Gators (where he played college football). My then-husband John is a huge Gator fan and recognized him, even though he'd never played a game with the Gators. He was with three other Gator players. I went up and started talking to them (the ex was too chicken). I chatted with Tebow for a while and then got his autograph, and he took pictures with my ex and two of my kids. We had no idea how famous he would eventually become. One of these days I need to scan those pictures.
I have nothing but respect for Tim Tebow; he is an amazing person. Not to mention SMOKING HOT.
Also, once the season started I went to a game and when he was running into the tunnel, he high-fived me. I haven't washed that hand YET.
I also met Joakim Noah, Al Horford, and some other former UF Basketball player whose name I don't recall. Maybe Taurean Green? They are all now pro players. Horford's mother lived in the same apartment complex I used to live in, and I saw them one day while walking my dog. Noah was petting my dog and I asked him if I could run home and get something for them to autograph. I grabbed one of the ex's hats and ran back. They invited me in and they all signed it for me. I knew right away it was Noah because not only is he literally almost 7 foot tall, he looks like this:
He's hard to miss.
7. Which shows do you look forward to watching every week?
I rarely get to watch shows when they come on because I work nights. But I love Duck Dynasty
and I am addicted to most TLC shows. I especially love
My Crazy Obsession!
And I watch Welcome to Myrtle Manor, too. I have never made a secret of my love for craptastic reality TV! I can't wait for Honey Boo Boo to return.
Her mom reminds me of someone I know.
I can't quite put a finger on who though....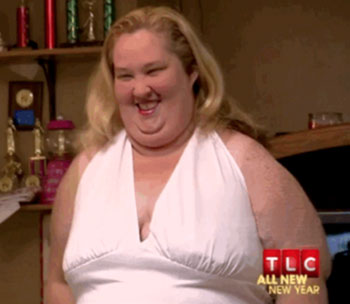 Smexy Mama.
{Join in, it's fun!}