I'm joining in with the beloved Mamarazzi
and composing a Happy List today!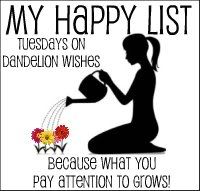 ~*Happy*~
~ Elayna had a great birthday yesterday! My baby is 11. Bittersweet!
~ I believe I have found the perfect little place for me & the girls, and we should be moving soon!
~ My niece Heather's baby is due in less than a month. We are super excited!
~ I have less stress now than I have had in many, many years. Although I deal with my own anxiety with learned techniques & medication, I still struggle with being a 'sponge' for others' anxiety. When they refuse to deal with their anxiety, it makes it difficult. Now that I no longer am dealing with that issue, it's like a huge weight has been lifted off of me. It feels great.
~ Soon, the past 8 years will be a closed chapter of my life. Lessons learned! And my maiden name will be restored. And yes - that makes me very HAPPY!
~ I have wonderful, supportive friends - both "IRL" and online - and they all make me feel loved & cared about & so happy.
This is my song for Elayna. Enjoy!